About Us: Trans Chat @ TransChatr.com
About Us at Trans Chat: Welcome to TransChatr.com, the free transgender chat site and social networking platform. Our tech geeks work around the clock to make sure our trans chat software delivers the best chat and social networking experience available anywhere on the Internet. Create a free trans chat account and check it out. Meet transgender community friends any time of the day or night. The trans chat is completely mobile friendly so you can chat on the go!
What's So Special About Trans Chat?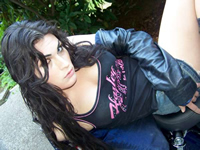 1) It's so much easier to open up with people who understand what you're going through. Transgender friends and community allies will provide a much needed break from the "real world." Just let your hair down and you can be yourself!
2) You get to know other members on a much deeper level by chatting online. Get to know other members in a way you would never experience in the hustle and bustle of your daily life.
3) If you're looking to explore your sensual side, this is a great place. Our adult-themed trans chat rooms will provide you a safe, supportive environment to explore your innermost sexual fantasies. It's amazing what you can learn through a little role play in the trans chat rooms.
4) Chat and get to know your friends before you ever decide to swap numbers or meet in person. Your safety should always be a top priority.
5) Finally, you don't ever have to give up your "number" or take it offline. It's a sweet little secret and entirely up to you whether you ever want to share your contact info with other members. Be whoever you want to be online and it's all up to you whether you ever provide more information.
Now that you've been introduced to a few of the great things this trans chat site and social networking can do for you, give it a try! TransChatr.com is here to give you the best trans chat experience available anywhere on the Internet.
---
TransChatr Has So Many Friends!
TransChatr is just one of many sites designed to help guide the transgender community to where they want to be. We reach our goals but putting our best foot forward and when you're not sure how to do that, ATL Transgender and our friends are here to help!